The extraordinary life of war reporter Marie Colvin would have merited a biography even if she had survived the Syrian army's bombardment of Homs in February 2012. Long before her fatal trip into the city's rebel-held Baba Amr quarter, producers had proposed turning her life into an action-packed movie. It was only after her death that two films, a documentary and a drama, appeared. Now, Lindsey Hilsum has written the book "In Extremis: The Life and Death of the War Correspondent Marie Colvin," and it is one of the best biographies I have read about any journalist. Colvin's trajectory, personal as much as professional, was fascinating by any standard for the passion and turmoil that shadowed her from birth to untimely death. This is a great story, well told.
The controversy surrounding Colvin's death partially overshadowed her achievements in life. Her family, friends, and Syrian opposition believe that the Syrian government assassinated her by targeting the Homs Media Center, where she and other correspondents were sending vivid reports of civilian suffering. Yet countervailing narratives persist. One is that the insurgents put journalists in harm's way to create Western martyrs for their cause. Another is that Colvin and 28-year-old French photographer Rémi Ochlik were unlucky casualties of a military campaign that took thousands of civilian lives.
While no interpretation diminishes Colvin's work or her bravery, Hilsum opts for the version based on testimony by an informant code-named Ulysses, apparently a Syrian security defector who sought asylum in the United States and claimed to have been present when Gen. Rafiq Shahadah of the military intelligence branch "hosted a celebration [of Colvin's death] in his office." His account included one officer calling Colvin "a blind bitch," a reference to the patch she wore after she lost an eye when Sri Lankan soldiers shot her in 2001; and another receiving a new luxury sedan as a "reward for the successful operation" that killed her.
Whether her death was accidental or deliberate, it has become a point of dispute between supporters and opponents of Syrian President Bashar al Assad, rather than a mystery requiring a serious investigation of the kind Colvin herself was well-suited to undertake. One aspect of Colvin's life emerges above all others in the pages of "In Extremis": She courted death so often that it was ready to take her on one battleground or another.
Hilsum's tale begins with Colvin's birth on January 12, 1956, in Queens, New York, and an idyllic childhood by the sea in Oyster Bay, Long Island, "quintessential suburbia." Her parents, Bill and Rosemarie, were "lace curtain Irish," 1950s American parents along the lines of "Leave It to Beaver." Colvin, the oldest of five children, emerged as the most independent and ambitious. Fortunately for the author, as well as the reader, she kept a revelatory diary from 1969, when she was in high school, until she died. Its many entries provide insights into her moods and preoccupations to add to the accounts of the many family members, friends, and colleagues (myself included) whom Hilsum interviewed.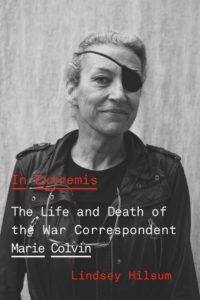 Photo: Courtesy of Farrar Straus & Giroux Publishing
Colvin worried, like many teenagers, about her looks and her weight. She was also interested in the world beyond Oyster Bay and resolved to get out. Her intellectual gifts took her to Yale, and her capacity for love and adventure led her into many well-recorded and often painful love affairs. She emerges as someone it would be difficult not to love, reckless in romance as on her many sailboats. Tempests on the high seas invigorated her, and getting back to shore was a minor concern.
She dabbled in journalism at Yale, took local news assignments in New York, and landed a job with United Press International in Washington and Paris. From Paris, she flew to Libya for her first taste of war when Ronald Reagan bombed Muammar Gaddafi's residence and civilian quarters of Tripoli. Gaddafi courted her, often calling her in the middle of the night to ramble incoherently but failing to seduce her. She became the sometime girlfriend of my friend David Blundy, who bequeathed her his flat in London and his job as roving correspondent for Britain's Sunday Times when he moved to Washington. Blundy would be killed in El Salvador in November 1989, a loss felt by countless friends and lovers. Colvin was more fortunate in her female friends than her male lovers. Lovers sometimes became friends, and vice versa.
Both of her husbands, Englishman Patrick Bishop and Bolivian Juan Carlos Gumucio, were fine journalists. The marriages didn't last, and Hilsum blames no one for their failures. Bishop, a distinguished correspondent for London's Daily Telegraph, met Colvin while covering the Middle East. He admitted later to making mistakes that wrecked the marriage, and he was jealous when she began her romance with Gumucio. Gumucio, whom I met in Beirut when he worked for the Associated Press, called me from Jerusalem one day to announce he was going to marry Colvin. I blurted, "You can't. She's one of the guys."
I meant it as a compliment. She was a great companion on a story, could drink all night, had a contagious laugh, and set standards that forced some of us to work harder. Shortly afterward, in Jerusalem, I accompanied Colvin and Gumucio on a pub crawl. They were Scott and Zelda Fitzgerald, dancing in ill-lit wine shops, singing on the stone lanes of the old city, and making me jealous of whatever they had between them. Like the Fitzgeralds, their romance was doomed. They moved to London, where Gumucio felt it demeaning to be viewed as Colvin's consort and Colvin became terrified of his drunken, violent temper. Hilsum tells this story straight, not taking sides and showing especial sympathy for Gumucio's daughter, Anna, by his previous marriage to the formidable Swedish journalist Agneta Ramberg.
Hilsum takes the reader with Colvin on her many dangerous assignments to Chechnya, the West Bank and Gaza under Israeli siege, Iraq, Sri Lanka, East Timor, and the other modern wars where she risked her life, as she said, "because we believe we do make a difference." What makes the biography and the life on which it is based so impressive is the truly heroic proportions of Colvin's dedication to getting the story of human beings trapped in war. She saved lives by arousing public outrage at the fate of Palestinian refugees under siege by Amal militiamen in Beirut, of Kosovars attacked by Serbs, and of Timorese terrorized by the Indonesian army. Awards and plaudits came in abundance, even as she suffered from too much alcohol and a heart too often broken. Hilsum weaves the accomplishments into the personal story: "Her real struggle was with herself — her fear of being alone, and a sense that her public persona as a brave war correspondent was out of kilter with the insecurity she felt inside."
Marie Colvin was the Dorothy Parker of war correspondence, a woman who towered over male colleagues, yet neglected to produce the book everyone expected of her. Like Parker, her life taught her:
Oh, life is a glorious cycle of song,
a medley of extemporanea,
And love is a thing that can never go wrong,
and I am Marie of Romania.
Main image: Marie Colvin photographed in Amman, Jordan, in 1991. Photo: Simon Townsley/The Sunday Times/Courtesy of Farrar Straus & Giroux Publishing.